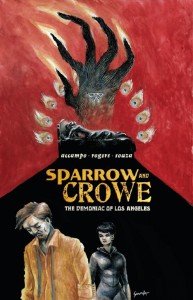 Our graphic novel, Sparrow & Crowe: The Demoniac of Los Angeles, is currently available for pre-order.
We encourage you to read the first chapter for FREE, and if you're interested, we ask that you please place an order for the graphic novel with your local comic book store, book store, or Amazon.com.
Download Sparrow & Crowe: Chapter One as a DRM-FREE PDF file right HERE (right click as 'Save As').
Or: visit ComiXology.com and download issue #1 to read on your computer, tablet or smartphone.
The print publication of this book is dependent upon pre-orders placed by comic book stores and Amazon.com. So, if you like our preview, we strongly encourage you to order the book through one of those outlets.
We even made a little graphic to help.
Here's the link to order from Amazon.com: Sparrow & Crowe on Amazon.com.
If you wish to ask your comic book retailer, simply tell them that it's in the current Diamond PREVIEWS Catalog under "Hermes Press." If they ask, you can also tell them the Diamond Order Code is JUN141292. 
Here's a locator for comic book stores in your area: comicshoplocator.com. (Or, y'know, just use Yelp.)
Thank you for your support.
---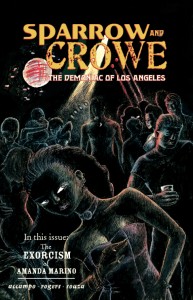 The Digital Series: 
The full Sparrow & Crowe series is now available in its entirety on ComiXology.com! Read ALL FIVE issues, plus the Halloween Special today!
For more details about the Halloween Special, click here.
SPARROW & CROWE: THE DEMONIAC OF LOS ANGELES is a five issue comic book miniseries written by David Accampo and Jeremy Rogers, creators of the critically acclaimed audio drama, Wormwood: A Serialized Mystery. Brought to lush life by artist Jared Souza's atmospheric watercolors, Sparrow & Crowe features washed-up exorcist Doctor Xander Crowe and his sardonic partner Sparrow—both popular characters from the Wormwood series—in an original tale of occult noir that serves as a perfect entry point for new readers, while offering up a prequel story that fans of the show have long clamored for.