It's here! Sparrow & Crowe #3 is now available at ComiXology.com as a digital exclusive!
In the third chapter of "The Demoniac of Los Angeles," we learn more about how Doctor Xander Crowe had the "hand of glory" attached to his wrist, as Amanda Marino, loosed from her bonds, attacks!  Meanwhile, across town, Sparrow and DiFalco track the Ring of Solomon, which brings them face to face with one of the more macabre marital relationships in all of comics. 
WRITTEN BY DAVID ACCAMPO & JEREMY ROGERS
ART BY JARED SOUZA
Also Available: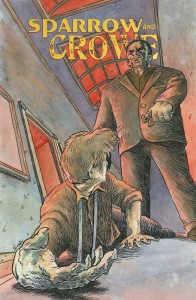 "This second issue of the indie darling Sparrow and Crowe raises the stakes but also raises the quality."
Sparrow & Crowe #2 is still in comic book stores!
The curtains open on the dark secret of the demon Adramelech and the pain he has brought to Doctor Xander Crowe! Now the evil Assyrian spirit has to returned to play another "game" with Crowe, and this time he has possessed the daughter of Los Angeles mob boss Don Marino. Caught between Hell and the mob, Crowe is forced to rely on Sparrow to find a special artifact known as the Ring of Solomon. But can Sparrow find the ring before Amanda Marino escapes her bonds and wreaks havoc at the Marino estate?
WRITTEN BY DAVID ACCAMPO & JEREMY ROGERS
ART BY JARED SOUZA
THE SPARROW & CROWE HALLOWEEN SPECIAL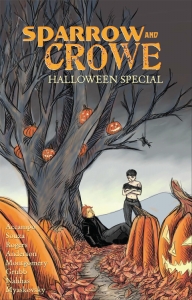 The Sparrow & Crowe Halloween Special brings together a wide variety of artists to create different visions of Sparrow and Doctor Xander Crowe, while still retaining the visual look created by lead series artist Jared Souza.
The tales in this volume range from comedic romp to gothic ghost story to melancholy noir— a perfect Halloween sampler for newcomers to Sparrow & Crowe!
A note about the Future of Sparrow & Crowe: The Demoniac of Los Angeles:
Yes, if you haven't heard the news, we are unfortunately suspending print publication of Sparrow & Crowe issues 3-5. However, Hermes Press still stands behind our book 100%, and they will publish the completed graphic novel when the book is done. So, for your serialized installments, it's all about DIGITAL COMICS. And before too long, you will have the Sparrow & Crowe: Demoniac of Los Angeles graphic novel in your hands.
SPARROW & CROWE: THE DEMONIAC OF LOS ANGELES is a five issue comic book miniseries written by David Accampo and Jeremy Rogers, creators of the critically acclaimed audio drama, Wormwood: A Serialized Mystery. Brought to lush life by artist Jared Souza's atmospheric watercolors, Sparrow & Crowe features washed-up exorcist Doctor Xander Crowe and his sardonic partner Sparrow—both popular characters from the Wormwood series—in an original tale of occult noir that serves as a perfect entry point for new readers, while offering up a prequel story that fans of the show have long clamored for.