With the success of our Sparrow & Crowe Halloween Special (still available on ComiXology.com), we've decided to celebrate another holiday with Sparrow & Crowe in our new anthology, WEIRD WINTER STORIES: A Sparrow & Crowe Yuletide Anthology, on sale NOW at Amazon.com! Read on…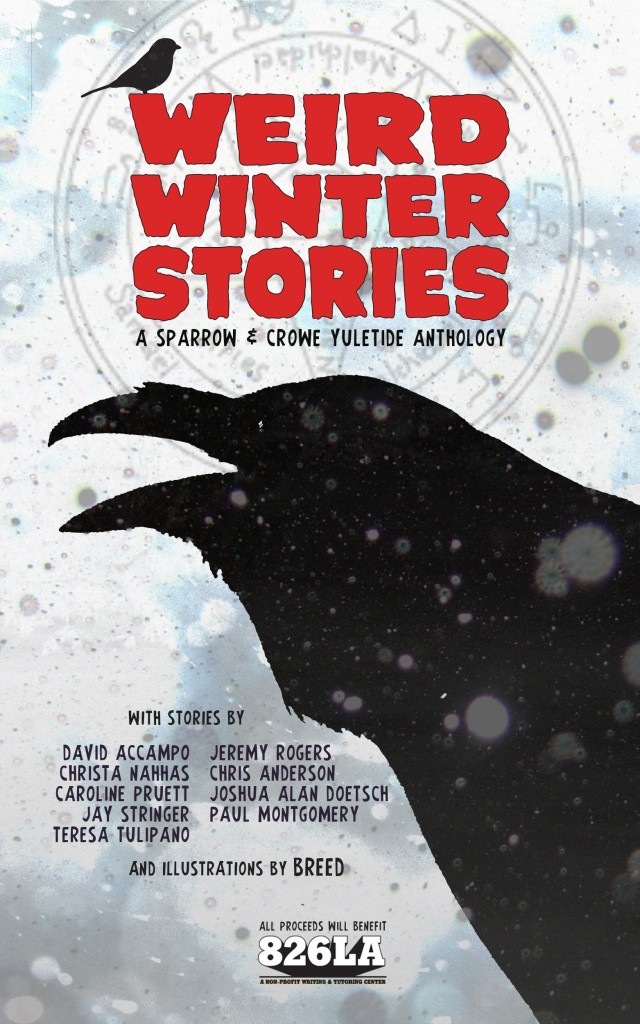 'Tis the season to be eerie in this volume of strange and unusual holiday tales featuring two-bit occult detective Doctor Xander Crowe and his partner, the sardonic hacker-magician, Sparrow. Together they encounter all manner of winter mysteries, from a new relationship troubled by Krampusnacht to a generational family story haunted by bloodthirsty tomte. Over the course of nine stories, the uncanny twosome come face to face with an assortment of sinister marvels, including festive homunculi, and a necessary plot to kill Santa. If you like your eggnog with a side of ectoplasm and brimstone, these Yuletide stories are ready to be read in front of a fire, with a glass of single malt whiskey, and maybe some rosary beads. Just in case.
WEIRD WINTER STORIES is a Kindle-ready e-book with Sparrow & Crowe prose stories by a talented line-up of writers, fronted by series creators David Accampo and Jeremy Rogers, and including: Jay Stringer (Old Gold), Joshua Alan Doetsch (Strangeness in the Proportions), Paul Montgomery (Marvel.com, Wormwood: A Serialized Mystery), Christa Nahhas (Sparrow & Crowe Halloween Special), Caroline Pruett (FantasticFanGirls,org, Chicks Dig Comics), Teresa Tulipano (Lines+Stars, Two Hawks Quarterly), and Chris Anderson (Sparrow & Crowe Halloween Special) — with interior illustrations provided by BREED (Sparrow & Crowe Halloween Special).
The e-book is currently available in the Amazon marketplace, and this is our favorite part: in the true spirit of the holiday, all of the writers and Habit Forming Films, LLC., have decided to donate ALL of the proceeds from this eBook directly to charity!
We've selected 826LA as our charity this year. 826LA is a wonderful non-profit organization dedicated to supporting students ages 6 to 18 with their creative and expository writing skills, and to helping teachers inspire their students to write. 826LA provides after-school tutoring, evening and weekend workshops, in-school tutoring,help for English language learners, and assistance with student publications—and all of these services remain free because of donations.
At Habit Forming Films, LLC., we have always championed the power of story to entertain, to communicate, to explore, and to reveal Truth. We are very excited to help the next generation do the same, and YOUR purchase of our e-book will help enable us to do that.
For more information about 826LA, visit their website at http://826la.org.