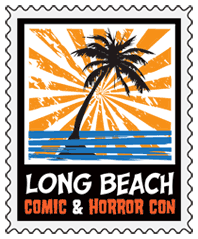 On November 3-4, come visit SPARROW & CROWE writers David Accampo and Jeremy Rogers at the Long Beach Horror and Comic Con in Long Beach, California!
Dave and Jeremy will be at Booth #1502 in the Artist Alley section of the show floor (for a map of the show floor, click HERE). They'll be signing copies of Sparrow & Crowe #1-2, as well as a VERY unique and special con-exclusive book, printed just for the show! Come by to see what it is! Posters and preview art will also be available.
Christa Nahhas, Chloe Myaskovsky and Chris Anderson, contributors for the SPARROW & CROWE HALLOWEEN SPECIAL will also be dropping by at various times!
On Sunday at 1pm, Dave and Jeremy will also guest on a special "Comics from Scratch" Q&A panel — all about creating comics, utilizing Kickstarter, publishers, digital publishing and more! The panel begins at 1pm on Sunday in Room 102B!